Rottler F10X
Rottler CNC Automatic Programmable Hole-to-Hole Cylinder Boring Machine 1.5 - 9.0" (38 - 230mm) Diameter with Optional Equipment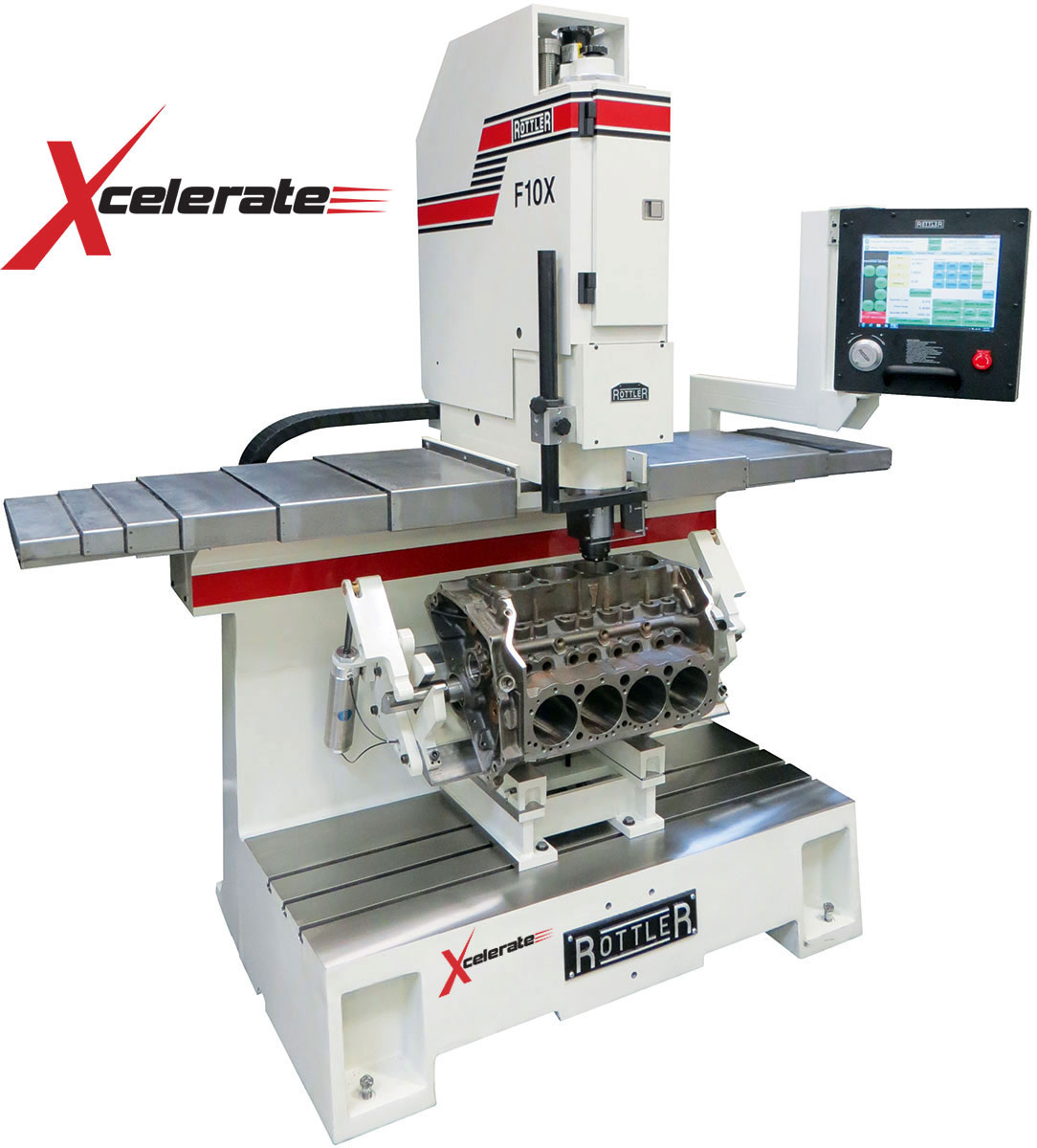 Machine Operations
Boring & Sleeving
Connecting Rod Boring
Cylinder Boring
Multi Purpose CNC (Custom Parts)

---
PDF Resources

FA & FX Optional Equipment Parts Manual

Overview
Having the same feed and capacity of its brother, the F10A, the F10X uses Rottler's exclusive Xcelerate technology to make operation faster, easier and more precise. This special version CNC machine offers automatic hole-to-hole unattended boring.

The F10 Boring Bar has been designed for standard and large capacity machine work. Large sleeve cuts can be taken at high spindle rpm's, and in many blocks, one pass sleeve cuts are possible, which increases productivity.

The massive one piece meehanite, stress relieved, precision machined base of the F10 model allows the fixturing of large diesel blocks such as Cummins 855, Detroit 12V71, Mercedes 44V12 and odd jobs such as gear cases and connecting rods.

The F10 machine can also handle small jobs down to 1.5" (38mm) bore diameter with optional cutterheads.

Floor-to-floor bore a V8 block in 15 minutes. Bore through a 6" (152.4mm) bore 4" (101.6mm) in diameter in 35 seconds, .250 sleeve cuts are not a problem. Tooling is available from 1.500 to 9 inches in diameter. Straight through and blind hole boring tools are available. Precision ball screws on the feed give the ultimate feed control.
Features
The same automatic functionality built into Rottler's advanced valve seat and guide and cylinder honing machines is also available in the F10X. You can bore and sleeve a complete line of cylinders – automatically. Perfect for performance race engine builders, remanufacturing operations, small engine builders and tractor pullers!


Speed - All FA Boring Bar models have the same high performance AC servo motor. Independent feed control allows you to change the feed rate from .001" (.025mm) to .012" (.3mm) per revolution.
Accuracy - The FA series uses a precision ground ball screw to control feed rate and cutter position. This allows the machines to repeat cutter position accuracy to .0002" (.005mm).
Strength - The Rottler proven spindle and bearing design gives you a rigid machine capable of making heavy sleeve cuts for a lifetime. The F10A has increased spindle size to ensure the best possible bore geometry at high spindle speeds.
Flexibility - With variable feed rates you are able to maximize the performance of the machine. Increase spindle feed rates for simple oversize bores. Decrease feed rates for sleeve cuts or counter bores. The F10A machines can bore from 1.5" (38mm) to 9" (230mm). Special carbide tools are available for counterboring, chamfer cutting, offset boring, and O-ringing.
Reliability - The F Series machines use a high-speed, cogged belt drive system. This and the use of two independent motors to run the spindle speed and feed, entirely eliminates the gear box.
Cost Savings - The high speed Rottler FA Boring Bar series machine can bore a block in half the time that other boring machines require.
New insert technology is producing long lasting, inexpensive inserts which are capable of handling these high speed and feed rates, with the same cost per insert as previous styles. Inserts do not require sharpening and the low cost of these tools makes them the ultimate choice for boring cylinders.
Standard Equipment
Special Version Machine for Automatic Hole-to-Hole Unattended Boring System
CNC (Computer Numerical Control) Machine using Windows Operating System and Industrial PC with Intel Processor.

Precision Programming and Control thru a 15" (367mm) Computerized Touch Screen.

Software for Programmable & Automated Cycles such as Boring, Sleeving, Counterboring and Blind Hole Machining

Chip shield & Dust Collector (504-35-11E)

USB flash drive for file transfer to and from computer

Internet connection to the machine computer must be provided for training support and service.

Machine/Computer can operate in either inch or metric system

Machine Work Head Floats on Air Cushion for Precision Centering - Total Travel - Left/Right Direction 44" 1117mm

All motors - AC Servo Motors with BISS Encoders - Infinitely Variable

Horizontal Movement (X Axis) - Left/Right - 44" (1117mm)

Vertical Movement (Z Axis) - Up and Down – 15" (380mm)

Vertical and Spindle Load Monitoring for Fast Overload Shut Down

Precision Position Display in .0001" (.002mm) Resolution.

Electronic Hand Wheel for manual movement - per click: Coarse Mode .01" (.25mm) Medium Mode .001" (.01mm) Fine Mode .0001" (.002mm)

Infinitely Variable Feedrates adjustable by hand wheel during automatic cycles

High Performance Spindle Rotation AC Brushless Servo Motor - infinitely variable to 1200RPM

Heavy Duty Hard Chromed Precision Spindle 3.25" (82.5mm) Diameter with High Speed Angular Contact Bearings supported with Adjustable Conical Outer Bearings

Spindle with Quick Change Cutterhead System

Fast Rapid and Jog Speeds for Reduced Cycle Time

Automatic Work Head Tilt System for Back Clearance during Spindle Retract

One Piece Heat Treated Mehanite Cast Iron Machine Castings

Turcite Coated Slideways for Low Friction and Extended Life

Automatic Central Lubrication System monitored by computer
Control
Windows-based control and simple, intuitive software through a 15" touch screen makes programming and automatic control for cycles such as boring, sleeving, counterboring and blind-hole machining simple and repeatable. Turcite-coated slideways give low friction and extended life.
Specifications
F10X Machine Specifications
American
Metric
Control
Automatic CNC
Touch Screen
4.5"
114mm
Machine Height
80"
2032mm
Table - Size
54" x 21"
1370 x 530mm
Travel - Spindle Nose to Table
26"
670mm
Spindle - Rotation Speed
100 to 1200 RPM
Spindle - Motor
3.3 HP 2.5kW HP
Bore Capacity (with Optional Cutterheads)
1.5" - 9"
38 - 228mm
Feed per Revolution
Programmable Feed Rates .001" - .012"
Programmable Feed Rates .025 - .300mm
Spindle Travel (Vertical)
15"
381mm
Workhead Travel (Horizontal)
50"
1270mm
Dimensions - Machine
45D x 61W x 80" H
1143D x 1549W x 2032mm H
Dimensions - Floor Space Requirements
46D x 64W"
1170D x 1625Wmm
Dimensions - Shipping
78D x 93W x 93" H
1854D x 2362W x 2362mm H
Machine Weight
4500 lbs
2042 kg
Electrical Requirements
208-240V, 30A, 50/60Hz, 1Ph
Air Requirements
1 cfm @ 90 psi
28 l/min @ 6 bar
Paint Color Code
RAL9002 (Grey White)