Rottler's Centerless Grinding System rotates the valve stem on it's own centerline. Precision drive rollers rotate the valve stem and a pneumatic low friction steady rest support the valve stem similar to a precision balancing machine, resulting in extremely accurate valve stem to valve seat run out less than .0002" (.005mm) TIR. The Rottler Centerless System allows a wide range of valve stem diameters to be ground without changing any collets or chucks.
For more information:
See the VR9 Brochure or give us a call at +1 (253) 872-7050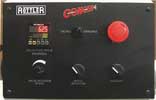 Digital Valve Face Angle Digital display shows exact valve face angle and is easily adjusted by one locking handle from 10 to 50 degrees.
For more information:
See the VR9 Brochure or give us a call at +1 (253) 872-7050