The massive F99Y is designed for machining large engines used in the earthmoving, mining, oil and gas, power generation and marine work boat industries up to the size of V20 engines blocks such as the CAT3520 and C175 v20, MTU 4000 V20, Cummins QSK78, Waukesha 9390, etc.
All F90M machines employ an entire array of features which help maximize the productivity capabilities of the machines. Quick tooling changeover maximizes the versatility and flexibility of the machine, allowing boring and surfacing in one setup. All F90M Series machines have the capability of Boring, Surfacing, Line Boring, and Universal Machining. Traveling column and spindle movements operated by precision ball screws and AC servo motors.
Fully Upgradeable to CNC
- The F90M models are designed to be upgradeable to full CNC in the field, at any time in the future.

For more information:
See the F90M Brochure or give us a call at +1 (253) 872-7050
For more information:
See the F90M Brochure or give us a call at +1 (253) 872-7050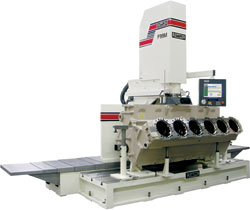 Photos may show optional equipmenent.
Connecting Rod Fixture
Rottler's patented Connecting Rod Fixtures allow large connecting rods to be surfaced and bored on the F99M machines. The Rottler boring fixtures allow both big end and small end to be bored in one set up resulting in perfect parallelism between big end and small end. All the rods in a set can be accurately bored for equal center to center distance, a must for today's high compression diesel engines. Special heavy duty fixtures available for boring very large, heavy connecting rods found in natural gas compressors and workboat marine engines are available.